​
Hello, all!
The staff team and I have gotten a cool opportunity to try out a new system that we think will be helpful for communication -- The Support Ticket System.
Support Ticket System: Staff and Player Communication Made Easy (At least by a little)
​
Q: Why do we need this? Why did we put yet another system on our forums?
The support system ticket is a way to increase visibility for issues and form them into tasks for staff. Issues can be created and sent to departments as a whole, and then have status marked as the issue is resolved.
Example:
Player X has a question regarding the effects of a spell. That goes to the Lore Department.
After Department, you may be required to pick an additional category at the bottom of the ticket based on which part of Lore you mean to address.

With the bottom half of a ticket, Player X may further determine how to classify the ticket.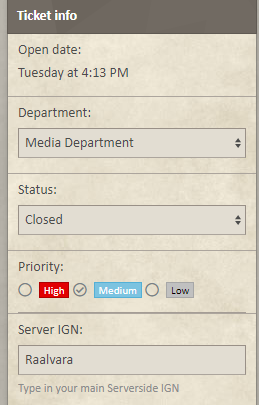 Tickets also have statuses and Priorities. Both are updated by staff and show at what state the ticket is currently at.
Status Types:
Open: This is a new ticket that has been untouched.
Answered: This is for tickets that have been handled/completed but need to be looked at/reviewed by another staff member
Awaiting Player Reply: This is for tickets for staff that are waiting for a player to respond
Closed: This ticket has been answered and dealt with.
Awaiting Staff Review: This is when a player has answered a staff question and is waiting on a staff response. Or if the staff has not had time to respond and means to look at this again later.
On Hold: These are for tickets that warrant a full staff conversation. We put them "On Hold" to notify a user a decision is being discussed.
Reviewed: This is for a ticket that doesn't need a response - it just needs to be seen. Staff will mark that they have seen it and perhaps leave a comment.
Q: What are things I can submit tickets for?
A: The Support Ticket System is not at the full scope that I would like for it to be at currently. I want to see how successful it is as it gets used.
For now, you can submit tickets for the following:
Bugs & Technical Issues
Questions about any sector of Lore.
Submissions for any Sector of Lore.
Submissions for Media: Newsletter, Ad sites, Contest Submissions.
Questions about Landing Rent --or any Landing question really.
Questions about Events.
General Department - For tickets you don't know how to classify.
Feedback for feedback over any of the departments. It even features a star rating system!
If you have thoughts, questions, submissions you can post them beneath, but it would also be cool if you used the new system to offer feedback or ideas as well!
For clarifications or the likes, you can ask below and I will answer!