((Art by @pandushkie on Insta!))
Names
: Glenn Louvel,
Danny,
Daniel Creedson
Titles:
Second in Command
Nicknames
: Glenn the Wren, Glenny, Bright-eye,
Vard
[
Art
!]
[
Playlist
!]
​
"Pfhh, you don't know /Glenn the Wren?/ Travellin bird and bard, ghost-slayer, witch-finder, adventurer of great repute?" - Maebh​
Updates are in this color!
#6c915e
"This is what you hear in the tales!"

KEY INFORMATION



Status

: Recovering x2

Age

: 16

Gender

: Male

Sexuality: "I'll 'ave to reject your advances, I'm married to my art, see." Race

: Human

Social Status:

Lower Class

Profession

: Bard

Current Home

: Storm's Landing, Linistel, Eberlands

Frequents

: Storms Landing & Eberlands

Quick Info

:

A small and thin boy with curly brown hair, clutching a lute. His left eye carries a light blue hue, and scars mark the flesh, but the smile remains.

Currently

: Learning and biding his time.
((Art by Magic Intern))
"You've never seen anyone this dashing."

PHYSIOLOGY



Build

: Skinny

Height

: 5'8"

Weight

: 120 lbs

Hair

: Short, brown, and somewhat curly. More often than not it seems to stick up in several directions, giving him a semi-permanent bedhead. He makes an effort to keep it neatly brushed over his ears- he's always thought they were a bit large.

Eyes

: His right eye is green and round, usually shining with excitement. His left is an icy blue, Charity's own. The flesh around it carries scars from haphazard knife work.

Physical Features

: A young man, his nose ever so slightly crooked. It's uncommon for him to be free of scuffs and scrapes from falling off of things and other "heroics." His face is round and his features are, too. His left shoulder is scarred- a faint, icy blue handprint covers it.

The faint scars of fang marks are visible around his neck, usually carefully obscured by his shirt collar, and he's gained twin burn/arrow scars on his legs.

Signature Clothing

: A well-kept doublet, worn over a tunic. His boots are cared for, if worn, and he maintains a habit of wearing gloves despite being further south.

Weaponry

: A rather large knife from Doggett, carried in a little sheath at his belt. Worn with pride.

Inventory

: Carries his lute in its case and a small coin purse. When roaming, he carries a small pack with rope, torches, and adventure snacks.

Hygiene

:

He's taken to more care in his appearance, of late.

Seen By Others As

: The little bard
"My heroic personality."

QUALITIES AND FLAWS



Personality

:

While his jovial and loud personality hasn't changed much, it's visibly a front. Glenn makes a point to put on a show whenever others are around, especially crowds, and those close to him may note that he seems to suffer from memory issues. He tends to push his luck in all things, though his penchant for people-pleasing hasn't vanished. He's prone to a temper on a good many subjects, now.

Strengths

:

+

Dedicated

: Loyal beyond loyalty, Glenn dedicates his time and craft to those close to him. He'll go to great lengths to assure the success of his friends, with his main function being to glorify those around him.

He's a massive people-pleaser, and his empathy allows him to cut to the core with some of his more biting comments.

+

Cheerful

: Glenn keeps up appearances, going out of his way to maintain a smile and joke with everyone in earshot. He prides himself in getting folks to loosen up and fancies himself quite the charmer, too. It's rare for Glenn to hold a grudge or a sour mood for long- at least, that's how it appears.

"

He has to stay in the sewers, see. I get to be merry and drink and play and he has to spend the rest of his life knowing he failed to stop it."

+

Driven

: He pursues his craft and wishes aggressively, constantly pushing the limits of what all he can learn. Glenn will stick to his disjointed moral code to his dying breath, and holds his willpower close to his heart.

Weaknesses

:

+

Incredulous

: Hallucinations, nightmares, voices- Glenn isn't sure what's real, anymore. Good things sour in the blink of an eye, and he takes a good deal of time to trust his eyes. He constantly needs to check in with his crew to ensure that what he's seeing is real.

+Dependant: He relies far too much on others, and takes every word straight to the heart. His confidence is constantly in flux due to the opinions of his crew.

+

Spiteful

: Will say and do horrible things when provoked. And sometimes when he isn't. Just ask Gunter.

Fears

:

+

Spiders & Insects

: Crawling on and under skin, the taste, tiny teeth- This fear is heavily rooted in past experiences.

"Get that bloody thing off of me!"

+

Failure

: It isn't that he fears messing up- Glenn fears giving up. It's the only way (in his eyes) that he could ever truly fail.

"Who's the real fool- the Jester who dances, or the idiots who pay to laugh at him?"

+

Restriction

: In every sense of the word, Glenn is terrified of not being able to move, see, and speak.

"I have to be able to do something." Intelligence

: Semi-Educated

He can read, write, and count- but cannot do maths very well.

His writing is moderately acceptable, mostly showcased in his composing.

Character's soft spot

:

+People who trust him

+Those of a nervous character

Values

:

+

Control

: Glenn thrives when he perceives having control over a situation, especially when leading within the Misfits.

+

Expression

: He adores forms of art, and is set on learning as many as he can.

+

Friends

: Glenn couldn't live without his crew- he dedicates everything to them, and they take care of him. It's an even exchange, he reckons.

General Sociability

:

Glenn is happiest at the center of attention, though he's more honest to himself among his friends. Occasionally, he'll get overwhelmed, and this is when he's most likely to shift the spotlight to someone else. When speaking to folks one on one, all the bravado vanishes, and it is here that he's at his worst.

Religion or Cults

: N/A

Affiliations: The Merry Misfits Alignment

: Chaotic Good leaning Neutral

Motivation:

+

Skill-seeker

: Glenn is only happy when in the pursuit of a craft, be it music, language, or anything else that strikes his fancy. If he finds himself lacking a goal or a purpose, he quickly grows frustrated and restless.

+

Fame

: He wants his name to be known- it's the whole reason he's doing this, after all. Glenn is chasing fame and fortune, mostly to prove a point to a figure in his past.
((Art by Me!))
"Look at all my cool stuff!"

BELONGINGS



The Lost Lute - "Bertilda" II:

The second iteration of the busted lute he brought from home. Strung with new strings from his notable critic, Talos, and kept in a case for safety.

Water-warped and used as a bludgeon, Berty has reached the end of her days. She rests peacefully within the clubhouse, now.

"

It's alright, Berty. Between the two of us, we can manage." The Cloak - "Ol' Red":

An oversized thing, and by far the best-taken care of in his belongings.

Ol' Red has gained a good few patches, becoming closer to "Ol' red, maroon, and other assorted hues."

"

You and me, ol' red." The Clear Lute - "Adelmar" I:

A gift from Gunter, who spent a good chunk of his savings. It means a lot to Glenn- even if it's no Berty.

"There- you got a name now. Quit bringing me bad luck!"
((
Source
))
ADELMAR:
Ancient Germanic, Portuguese
From the Germanic elements adal "noble" and mari "famous".
Doggett's Knife - "Andebert":
Given to Glenn by Doggett, after singing the aptly named
Doggett Song
. Carefully named not long after.
Physical Description: A 6" curved knife with a full tang, made of steel.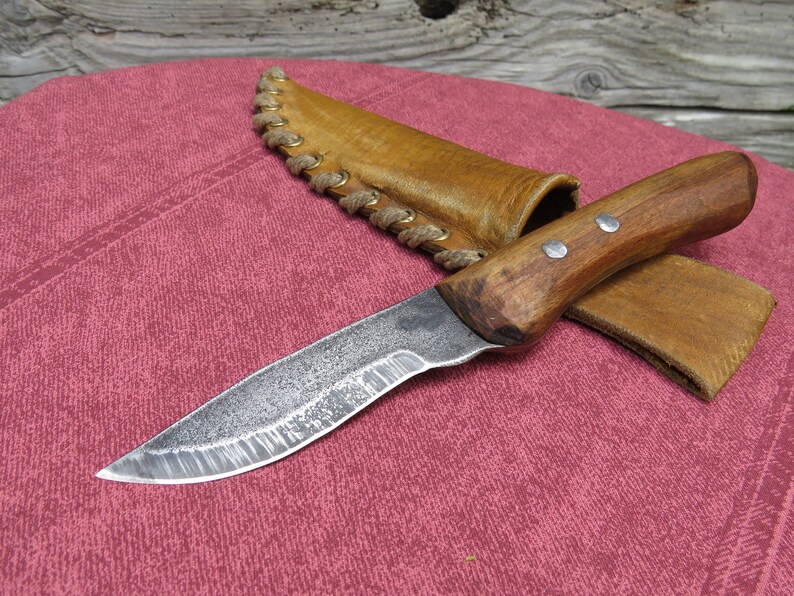 ((Image from Squid,
Source
))
ANDEBERT
:
Ancient Germanic
From the Germanic element and "wrath, zeal" combined with beraht "bright".
"
Really feels like somethin' from the stories, don't it?"
The Adventuring Lute - "Amalbert":
Hand made by Bennett, this lute is known as the "adventure" lute and looks like it could be used as a bludgeoning weapon.
"Changin' hearts through my art- sometimes by force, with Amalbert!"
The (F)lute - "Anatolius":
Gifted to him by Florence, and treasured. He'll learn to play it, but it's going to be everyone else's problem first!
A standard-fare metal flute.

ANATOLIUS: Ancient Greek (Latinized)
From the Greek Ἀνατόλιος (Anatolios), derived from ἀνατολή (anatole) meaning "sunrise"
((Art by Me!))
"I'm good at most things, see?"

SKILLS



Singing

[ 5/10] - No more voice cracks. He's just glad to be able to sing at all, these days.

Lute

[4/10] - He's improved a good deal with brute force and time, and the strings no longer snap under his touch.

Another few nat 20's and time, he's gaining a +3 to rolls on lute playing

!

Flute

[2.5/10] -

Florence had taught him the basics, and he "quietly" continues to practice.

Adventuring + Finding Trouble

[7/10] - He's usually able to find interesting things. Interesting things find him.

Medicine

[4/10] - Isla has begun teaching Glenn first aid-

he's also gained Lord Daeron as a teacher, now!

LANGUAGES

:

Rede

: [2/10] -

He's beginning to learn, from Matty, Isla, and Gunter.

Elvish

: [1/10] -

Maebh and Bennett taught him some "phrases." Marian fills in the gaps.

Common

: [8/10] - His native tongue.
Last edited: